Robert Love
Profile Updated:
July 26, 2017
| | |
| --- | --- |
| Residing In: | Annapolis, MD USA |
| | |
| --- | --- |
| Spouse/Partner: | Rose S. Love |
| | |
| --- | --- |
| Occupation: | Professor, History Department, U. S. Naval Academy |
Children:
Robert W. Love III, born 1976
Kirstie Love Turowski, born 1978
Yes! Attending Reunion
Robert's Latest Interactions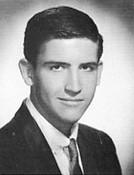 Robert Love
has left an In Memory comment for his Profile.
I was saddened to learn of Mr. Helton's passing. I remembered him often both as a graduate student in history and as a professor in the History Department of the U. S. Naval Academy for over four decades. Students and younger colleagues often ask why I chose to teach and write history and I answer that my initial notion came from a trio of outstanding history teachers at Los Altos High School.. From Mr. Barkman, I leaned that history is really a "story" and that telling good stories is what keeps students alert. (I have recounted his experience as a WWII infantryman facing a German machinegunner in the woods to every one of my military history classes.) From Mr. Bruce, I learned the importance of narrative and chronology, something I emphasize to undergraduates and grad students alike. (The beautiful Nancy Hall and I spent countless afternoons memorizing lists for his daunting exams; she always bested me.)
I was hardly Mr. Helton's best student for a number of reasons; indeed, I was probably a bit of a pain in class. For one thing, I already had the GPA I needed to get into UW, the only college I ever wanted to attend. For another, I had trouble concentrating as my mind commonly wondered off to the next drive down to seedy old Santa Cruz or a glorious weekend date. (We really had some gorgeous and charming classmates, fellows!) Moreover, Mr. Helton made clear his liberal views early into the semester. When, at dinner, I explained what Mr. Helton had said in class that day, my Dad, an economist by training, would burden me with a detailed lecture as why my teacher was misguided. I soon quit contesting Mr. Helton's assertions and allowed my mind to wonder, with the result that I believe his was the only History course I ever took that I did not "Ace."
Although I was not then – and am surely not now - attracted to the "conflicting interpretations" approach to teaching history (via the old D. C. Heath series he used), I was fascinated by Mr. Helton's discussion of Jacksonian America. It was, I believe, the subject of his MA thesis (at I recall, U Tenn). As luck would have it, when I attended grad school over a decade later I found myself for two full years the RA (research assistant) of one of the most distinguished scholars of the Jackson era of his day. I could not help recalling every so often that Mr. Helton had sparked an interest in one of the most overlooked but important periods in America's history. Since then I have spilled a little ink and delivered more than a few scholarly papers on the U. S. Navy in the Age of Jackson and every time I return to that subject I think of Mr. Helton, one of a trio of men who in very different ways truly shaped my professional life.
Robert Love