In Memory
Howard Pipkin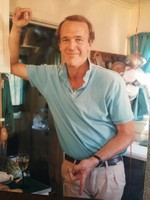 After Howard graduated from Los Altos High, he attended Foothill College and San Jose State, and was married for a short period of time to Barbara Showalter. In the late 1960s, like many of his generation, he experimented with illegal drugs, and spent about a year in jail on drug charges. In 1970, following his release, he moved to Santa Cruz, and after working for several years as a counselor at the Santa Cruz County Health Department's Methadone Clinic, opened a business called "You Name It." He did metal fabrication, electrical work, small engine repairs, woodworking, and odd jobs. His landlord was putting up signage for the shops he rented space to; when he asked Howard what his business name was, Howard responded "I don't know, you name it," and that's how his business got its name. Howard also taught archery and photography at The Orchard School, a small private elementary school in Aptos, and for many years lived in a small trailer on the school property.
He was a sweet and gentle soul. He loved music, especially jazz, and played flute and harmonica. He loved animals, and always had a cat or two or five sharing his living space. He loved women, and children, and through five successive long-term relationships he participated in the raising of eight children. He was particularly close to my daughter Alice Lenox-Burke, and sat at the head table at her wedding reception as father of the bride.
In September 1996, Howard was diagnosed with pancreatic cancer, and a combination of surgery, radiation and chemotherapy treatments gave him another year of health. In September of 1997 the cancer returned, and he passed away on October 25, 1997.
If wealth is measured by the number of friends and loved ones one gathers throughout a lifetime, Howard was a very wealthy man. The church in which his family held his memorial service was full to bursting with family and friends, with attendees including all five of the women he had lived with, all of the children he had helped raise, and many of the students who had taken archery and photography classes with him at the Orchard School. The Orchard School held a second memorial for him on the school grounds, and his friends, and those who had been his students over the years, shared stories and planted a pine tree in his memory.
He is buried in Turlock, California, along with his parents Esther and Joe.
Contributed by Nancy Lenox, Howard's girlfriend 1970-1975, and close friend thereafter until his death.