In Memory
Marc Lorenzen VIEW PROFILE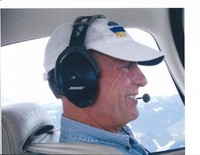 Marc Lorenzen, 72, died at his home on Flathead Lake on May 30, 2017, after a short, but courageous, battle with multiple myeloma and stroke.
Marc is survived by his wife, Lynette; children, Brent Lorenzen and Erica Lorenzen Lengacher; stepsons, Emmett and Peyton Berg; and seven grandchildren, Alexandra, Cole, Jonah, Leah, Mia, Parker and Sami.
Marc moved to Flathead Lake in the late 1990s after a successful career as an environmental engineer and entrepreneur. After graduating from Cal Berkeley, Marc served in the Public Health Service in Arizona and earned a Ph.D. in engineering and applied physics from Harvard. He subsequently worked as a senior engineer at Battelle and Tetra-Tech before starting his own consulting firm, PTI Environmental Services. After PTI was acquired by Exponent, Inc., Marc served as vice president of Environmental Practices, as well as VP of Corporate and Business Development.
In recent years, Marc served on the board of the Flathead Lakers, Angel Flight West, and the Flathead Community Foundation, where he was the chairperson for many years.
Marc had a genuine appreciation of the outdoors, kayaking, hiking and camping in wild places throughout his adult life. At the age of 60, Marc earned his pilot's license and enjoyed taking his family and friends on short flights throughout the Northwest. He loved spending time with his wife, grandchildren, and his beloved dog, Pauli. He could be found regularly helping out neighbors, offering rides on his tractor, woodworking and spending quiet mornings on the deck. Marc had a particular knack for restoring and reviving just about anything and spent many happy hours tinkering in his workshop and on the property. His steadiness, brilliance, humility, sage counsel, kindness, wry sense of humor and generosity will be missed by many.
Per his wishes, Marc was cremated and no public services are planned.
Donations can be made to Flathead Community Foundation, 345 1st Ave. E., Kalispell, MT 59901.
http://www.dailyinterlake.com/article/20170620/ARTICLE/170629985
Click here to see Marc's last Profile entry.