In Memory
Donald Forsyth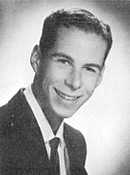 April 28, 1944 ~ November 28, 1999

The following obituary was published in The Oregonian in Portland, Oregon, on December 4, 1999.
"Donald M. Forsyth died on Nov. 28, 1999, of cancer at age 55. Mr. Forsyth was born April 28, 1944, in Portland and moved to Los Altos, Calif., as a youth. During the Vietnam War, he served in the U.S. Air Force. He then worked for Fluor Corp., an engineering, construction and services company, on military bases in Asia and Saudi Arabia. After returning to the Portland area in the late 1970s, he was an electrical contractor.
"Survivors include his companion, Joyce A. Cutting of Gladstone, and her children, Hollie McClung of Milwaukie and Jery Cutting of Portland; and sisters, Rosalee Halik of Pittsfield, Mass., and Diane of Victor, Iowa.
"Private interment will be in Willamette National Cemetery."
* * * * *
Logged-in website members are invited to post memories, stories, and other comments below. Non-members may send messages to LAHS62@gmail.com, along with their names and class year at LAHS - or other connection to Donald - to be posted by a website administrator.