In Memory
Bonnie Price (Gaare)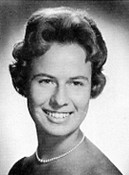 Judith "Bonnie" Price Gaare
August 10, 1944 - August 6, 2008

Bonnie succumbed to lung cancer at her home in Clayton, California. She was born in Elizabeth, North Carolina to parents Herbert and Ida Price and lived in Clayton for 31 years. Bonnie is survived by her husband Jon, her son Kristopher, and her daughter Karlynn.
~
Website members are invited to post comments, memories, and tributes below. Non-members may send comments to LAHS62@gmail.com to be posted by a website administrator.