In Memory
Virginia Buschmann VIEW PROFILE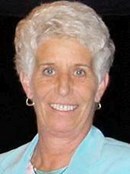 Buschmann, Virginia Claire
71, of Phoenix passed away on August 16, 2016. She had been suffering with complications from emphysema. Claire was born January 27, 1945 in Coral Gables, Florida. She grew up principally in Los Altos, California except for a five year period when she and her family lived in England. Claire moved to the Phoenix area in the 1980's.
Claire went to Whitman College in Washington state, graduating in 1966 with a bachelors degree in Political Science. She also earned a master's degree in Counseling from Illinois State University. She worked as a counselor in the College of Nursing at Arizona State University until her retirement. She then worked as a registered securities representative for Vanguard. She retired in 2010. Claire loved golf, camping, hiking and socializing with her friends. She also had a great love of traveling and flying. She earned her private pilot license in 1993. Claire had many friends who will miss her easy-going kindness and fun-loving generous spirit. As she used to sign off in cards and letters, she would appreciate doing the same here: "Much love, Claire." She is survived by her brother and sister-in-law, Toby and Susan Buschmann of Prescott; niece and husband, Ginny and Jake Hanna, also of Prescott and their son, Sutton John Hanna and many friends. Claire was preceded in death by her parents, Bob and Virginia Buschmann. Contributions may be made to the Arizona Humane Society.
Published in The Arizona Republic on Aug. 21, 2016- See more at: http://www.legacy.com/obituaries/azcentral/obituary.aspx?pid=181136423#sthash.YDf6WeOI.dpuf
Click here to see Virginia's last Profile entry.