In Memory
John Beaton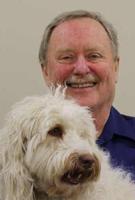 October 26, 1944 ~ November 6, 2018
JOHN MARK BEATON
Missed dearly by his children
Laura Beaton and Daniel Beaton,
his house-wolves Rusty, Walter, Odie
and countless friends.
(Excerpted from a brief obituary published in the Canberra Times on Nov. 10, 2018)

(A media release posted on the website of the Academy of the Social Sciences in Australia follows:)
It is with great sadness that we announce the passing of the inimitable Dr. John Mark Beaton. John passed away peacefully in his sleep on 6 November 2018 at the age of 74.
John first joined the Academy in 2001 and in the intervening years has not just been at the Academy, but was the Academy. He mentored and supported us all in his nuturing style of generosity and camaraderie. We will miss his sardonic sense of humour, his pedantic proofreading, and the presence of his ever-loyal furry mascot or "Departmental Mood Enhancement Officer" by his side.
A celebration of John's life will be held in the coming days in Canberra, details of this will be provided separately as arrangements are made.
The academy will be closed on November 15th and 16th out of respect.
Our thoughts and condolences are with his family and friends. He will be greatly missed.
(Note: A public memorial for John was held in the Shine Dome of the Australian Academy of Science in Canberra on November 14.)
~
Click here to read an obituary which appeared on the website of the ACT Cricket Association and has been posted in Knights' Forum.
~
Website members are invited to post comments, memories, and tributes below. Non-members may send comments to LAHS62@gmail.com to be posted by a website administrator.